In order to make the production process more convenient in commercial manufacturing, pipe beveling machines are commonly utilized to help in finishing the job. However, a considerable variety of people do not know much concerning the internally rising beveling equipment. They just have become aware of such a term. It is unclear what exactly it is. So currently let's have a look at what the complex beveling machine in our mouth looks like.

What Is a Pipe Beveling Machine
---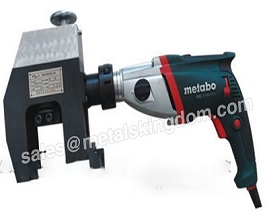 As the name suggests, the beveling machine is a special device for chamfering as well as beveling pipelines or plates on the welding front face. It can resolve the drawbacks of irregular angles or rough slopes and also high functioning noise in the operation procedure of the grinder. The pipe beveling machine has the advantages of a simple procedure, common angle, as well as smooth surface area. According to the attributes of handling products, it can be divided into 2 kinds: pipe beveling machine and flat beveling equipment. The pipe beveling machine is divided into electrical pipe beveling machine and pneumatically driven pipe beveling machine; pipe beveling machine from fixed method should be divided into internal growth type pipe beveling machine as well as outside clamping type pipe beveling machine.
Advantages
---
1. Save time – stationary pipe bevelling machines are many times faster than othermethods such as hand grinding, flame cutting, hand held bevellers, or loading into alathe.
2. No more dirty operations like hand grinding or torching.
3. Consistent accurate pipe bevels each time, will face the end of the pipe square and bevel or deburr ID as needed.
4. Cycle time normally in the 5 to 20 second range depending on size.
5. Eliminates ergonomic issues from operator handling hand tools.
6. Safer than hand grinding or torching, all chips are contained within the machine.
7. Less operating cost, used mostly by industry standard carbide tooling
8. Easily bevels stainless and materials not suitable for torching.
9. Special forms such as J-bevels are easily produced.
10. Can be operated by a non skilled operator once done setup.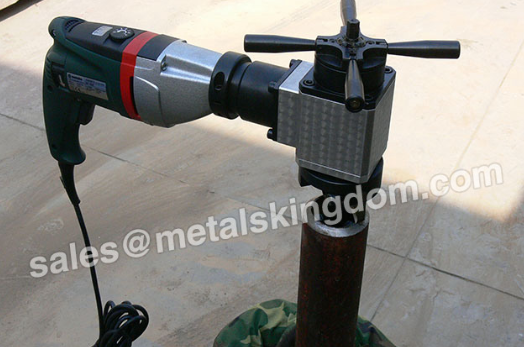 Portable Pipe Beveling and Cutting Machine
Application
---
The beveling machine is extensively utilized, primarily ideal for: processing the bevel before welding, can process the outer bevel of the hole, as well as can additionally deburr the metal product. The convenience as well as the flexibility of the beveling equipment can save a great deal of functioning time, and can additionally decrease labor intensity, consequently saving expenses for enterprises and also enhancing job efficiency.

The Attributes Of The Beveling Machine
---
1.double insulation defense;

2.basic V-shaped roller overview;
3.no oily smoke, no warmth mist, no resonance when functioning;
4.no burrs on the beveling edge; unique gear motor layout;
5.comfy and risk-free operation handle;
6.embraces difficult alloy blade;
7.distinct style efficiently prevents the paint from removing.
The Preventative Measures When Running The Beveling Equipment
---
1.Before cutting, check whether there is any abnormality in the rotating part, whether the lubrication is good, and check the vehicle before reducing it.

2.Before use, check whether the electrical insulation is good and whether the grounding is reliable.
3.Be sure to wear handguards, shielding shoes, and insulation pads when using them.
4.After use, please remember to remove the power supply.
5.When cutting, the workpiece should be tightened.
6.When operating in a furnace, two people are required to work at the same time.
We are a pipe beveling machine supplier, please contact us if you need them.