Use the valve test bed to test the valve pressure and leakage
Valve test medium, generally normal temperature water, important valves can use kerosene. Safety valve constant pressure test, can use nitrogen more stable gas, also can use steam or air instead. For diaphragm valves, test with air. Pressure and leakage tests must be conducted by valve test bed before installation, whether new or repaired valves are used.
Valve pressure test means body strength test. Valve leakage test, refers to the sealing surface tightness test, these two tests are to check the main performance of the valve.
Following picturer is Xinjiang a valve maintenance unit inverted double pressure valve test bed debugging site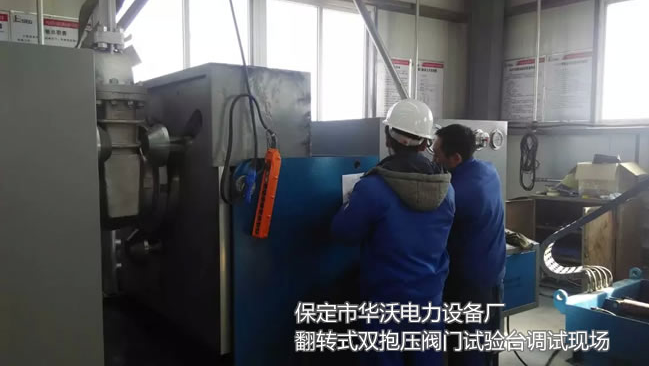 Field debugging of valve test bed
Use the valve test bench to test the valve pressure and leakage three steps:
1, open the valve access, fill the valve cavity with water (or kerosene), and increase the pressure to the pressure required by the strength test, check whether the valve body, valve cover, gasket, packing has leakage.
2, close the valve road, pressurize one side of the valve to nominal pressure, check whether there is leakage from the other side.
3, turn valve upside down and test on opposite side.
(1) Nominal test pressure of valve is from 0.4mpa to 32Mpa. For these commonly used pressure valves, the test pressure of valve strength is 1.5 times of its nominal pressure. Valve seal test pressure, equal to 1.1 times of nominal pressure.
(2)Valve test method valve pressure test leakage, in the valve test bench. The structure of the valve grinder, which has a pressing part above and a pipeline connecting with the pressure test pump below. After the valve is pressed tight, the pressure test pump works. From the pressure gauge of the pressure test pump, you can read the pressure of the valve. Valve test pressure filled with water, to the valve air exhaust. Test table upper pressure plate, with vent, with small valve open and close. A sign of clean air is that all that comes out of the vent is water. After the vent is closed, the pressure increases. The boost process should be slow, not sharp. After reaching the specified pressure, hold it for 3 minutes, the pressure will not become qualified.