The valve test medium is generally clean water at normal temperature, and kerosene can be used for important valves. The safety valve constant pressure test by the Valve Tester can use nitrogen to stabilize the gas, or use steam or air instead. For diaphragm valves, air is used for testing. Whether using a new valve or using a repaired valve, you must test the leak before installation.
Valve pressure test by the Valve Test Machine refers to the valve body strength test. Valve leak test refers to the tightness test of the sealing surface. These two tests are the inspection of the main performance of the valve.
The valve test bench is used to test the valve for three steps: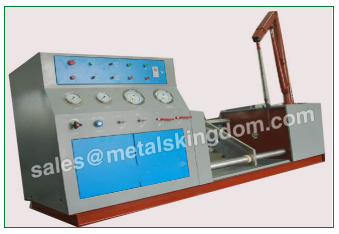 (1) Open the valve passage, fill the valve cavity with water (or kerosene), and increase the pressure required for the strength test to check the valve body, valve cover, gasket and packing for leakage.
(2) Close the dead valve path, pressurize to the nominal pressure on the side of the valve, and check for leaks from the other side.
(3) Reverse the valve and test the opposite side.
We are Valve Test Machine Supplier. If you have demand about valve tester, please leave us a message or contact us by email.
Here is our email address: sales@metalskingdom.com