Introduction of pipe beveling machine
A pipe beveling machine is a special tool for beveling pipe or flat plate at the front surface of welding. It solves the shortcomings of flame cutting, grinding machine grinding, and other operational processes such as irregular angles, rough beveling surfaces, and noisy work. It has the advantages of easy operation, standard angle, smooth surface, etc.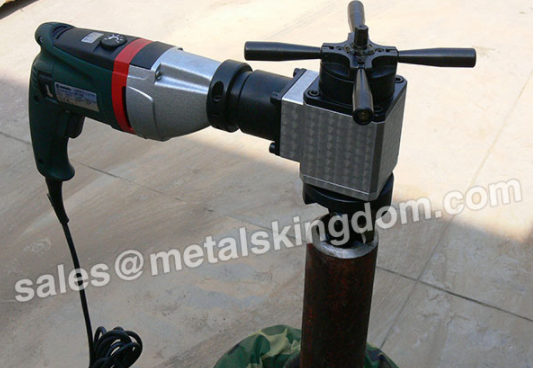 Principle of pipe beveling machine
A pipe beveling machine is a portable external card-type pipe cutting and beveling machine. The body of the beveling machine can be divided into two halves and stuck on the outer diameter of the pipe for processing. The biggest advantage of a pipe beveling machine is: lightweight, small in size, easy to carry.
Pipe beveling machine classification
1. Hydraulic drive: large output power, a wide range of use, can cut wall thickness of 35mm or more wall thickness of the pipe, in the processing process can be a large range of infinitely adjustable speed, easy to operate, easy to achieve overload protection, safe and reliable, low noise.
2. Pneumatic drive: small volume, lightweight, working medium is air, low cost, simple exhaust treatment, no pollution of the environment, the processing process does not produce sparks, safe and reliable construction, can be used in flammable, explosion-proof, dangerous occasions, suitable for cutting pipes with a wall thickness of 25mm or less.
3. Electric drive: servo motor, small size, fast action response, large overload capacity, wide speed range, large torque at low speed, small fluctuation, smooth operation, low noise, high efficiency, suitable for cutting pipes with wall thickness within 35mm.
Pipe beveling machine's scope of application
The pipe beveling machine is suitable for beveling, pipe cutting, boring and external round processing, etc.
Pipe beveling machine is widely used in natural gas, petroleum, chemical, electric power, metallurgy, boiler, pharmaceutical, water treatment, and other industries. Now it is used in the pipeline installation project of new projects and pipeline maintenance. Pipeline beveling machine is especially suitable for pipeline maintenance, pipeline installation projects, etc.
Processing range of pipe beveling machine
Pipeline beveling machine is applicable to materials: cast steel, tool steel, cast iron, bearing steel, etc.
Pipe beveling machine applicable size range: 25mm~1850mm outer diameter, wall thickness ≥10mm.
If for the wall thickness of 40mm or more, you can choose a heavy-duty pipe cutting machine to cut at the same time. The flap system can be quickly separated and mounted on the pipe beveling machine. The clamping is easy and reliable and takes very little time. The pipe beveler is connected to the hydraulic station by quick-change coupling, which is very convenient and easy to plug and play. The high strength and high precision special bearing design ensure the high reliability and durability of the machine.
We are a pipe beveling machine supplier, please feel free to contact us if you need them!