Reasons for Valve Grinding Machine use:
After the valve is used for a long time, the sealing surface of the valve disc and the valve seat will wear and the tightness will be reduced. Repairing the sealing surface is a large and important task. The main method of repair is grinding. For the severely worn sealing surface, the first surfacing is ground and then ground.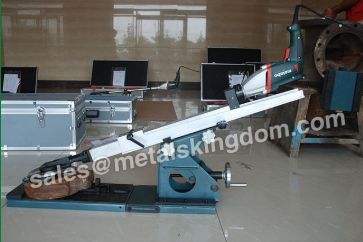 Abrasive material:
Commonly used abrasive materials are abrasive cloth and abrasive paste. The abrasive cloth is made of cloth as a substrate and glued on the sand. According to the thickness of the sand particles can be divided into 00, 0, 1, 2 and so on. The abrasive paste is formulated with a lubricant and an abrasive. Lubricants can be used in motor oil, kerosene, butter, glycerin, oleic acid, stearic acid and paraffin.
Grinding tools:
Due to the different degree of damage, the valve flap and the seat sealing surface cannot be directly researched. Instead, the valve valve (ie, the grinding head) and the false valve seat (ie the grinding seat) are respectively used for the valve. Seat and disc are ground. The grinding head and grinding head are made of ordinary carbon steel or cast iron, and the size and angle should be equal to the valve flap and valve seat placed on the valve.
If the grinding is performed manually, various grinding rods must be arranged. Grinding rods and laps should be properly assembled and not skewed. In order to reduce the labor intensity and speed up the grinding, some grinding equipment, such as a Portable Valve Grinding Machine, is often used.
We supply grinder machine and Pipe Beveling Machine. If you have demand, welcome to contact us.
This is our email:sales@metalskingdom.com