The valve test bed is mainly used for hydraulic pumps, hydraulic valves, hydraulic motors, hydraulic cylinders, and other hydraulic products for testing and inspection and maintenance purposes. The device can perform factory inspection and test on liquid flow and pressure measurement, output torque and speed measurement, output power measurement and temperature rise measurement. Equipment can be implemented
Display the relationship curve between each parameter and time, record the entire test process and output a report.
When using the valve test bench, please note the following:
1. Before you have mastered the use method of the test bench, you must not operate it without authorization. Operation with oil and water is strictly prohibited when operating the control panel;
2. Before starting the test bench, check whether the data collection circuit and other accessories are connected correctly and whether there is a short circuit. Check whether the various connectors on the test bench are connected properly, where they are connected, and whether the hydraulic oil is within the scale;
3. After starting the test bench, first check whether the various instruments on the test bench can work normally, detect whether there is oil leakage, and then check whether the data collection is normal. When the pump oil pipe is found to be foaming, it should immediately stop running;
4. During the test, do not use too much force or speed when operating the buttons and knobs on the table, and pay attention to the oil temperature during operation. Cool in time when the temperature is too high;
5. After the test, close the valve test bench, power switch, etc. and clean up the surrounding environment of the test bench;
6. After our company purchases the test bench, we will provide relevant technical training to the operators. However, when new equipment arrives at the factory, people from other departments are often curious and eager to try it out. At this time, it must be used under the guidance of relevant technical personnel.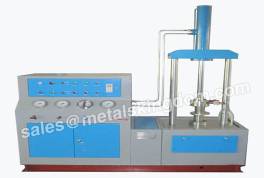 Valve Test Bed
The above contents are the 6 items that should be paid attention to when using the valve test bench. The implementation of the above items can not only ensure the safe use, effectively exert the performance of the test bench, but also effectively extend the service life of the equipment and bring greater benefits to the enterprise.
Chinese testing machine leading brand Metas Kingdom Industry Limited
Professional research and development and production of various valve test tables, valve grinding machines, welcome to consult and buy!
Our Portable Valve Grinding Machine, Valve Test Bench Connecting rod synchronous telescopic mechanism, Portable Pipe Beveling Machine, Pipe Beveling and Cutting Machine all gained the National Patent for utility models in 1996 and 2014, our factory passed ISO Quality Management Certificate in 2008, and got the Certificate of Material Supplier by China National Petroleum Corporation and National Power Corp.