The vertical Valve Core Test Bench equipment produced by Baowo Huawo Electric Power Co., Ltd. is mainly used for testing the sealing performance of new valves before they are put on line or after repairing old valves. These tests include internal seal performance testing, upper sealing performance testing, valve body strength testing, and the like.
Under normal circumstances, the valve is not subjected to strength test, but after repairing, the valve body and bonnet or the corroded valve body and bonnet are applied to the valve test bench for strength test. For safety valves (generally special vertical safety valve test stands), the constant pressure and return pressure and other tests are in accordance with the specifications and relevant regulations. When the safety valve is tested, the valve installation position should be in the direction of easy inspection. A valve in the form of a welded joint can be pressure tested with a conical seal or an O-ring seal when the blind plate cannot be used for pressure test.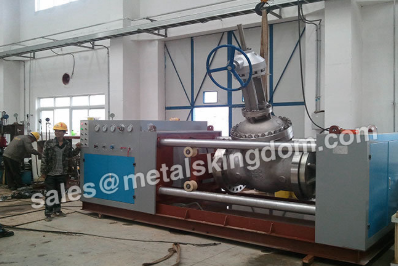 Vertical Valve Testing Machine technical parameters:
Ø Scope of application: Vertical valve test bench is suitable for sealing and valve body strength performance test of straight-type flanged valve such as gate valve, globe valve, ball valve, regulating valve and check valve of smaller specifications. Optional special sealing disc is available. Performance testing of welded valves and threaded valves
Ø Clamping type: top pressure
Ø Test medium: water, gas, oil
Ø Valve nominal diameter mm: 20-150
Ø Test pressure MPa: 32-3.1
Ø Voltage: 380V
Vertical Valve Tester Board features:
The horizontal frame can be horizontally rotated, and the work surface is completely open for easy operation of the ultra-high valve.
Customizable multi-station valve test bench for small-diameter large-volume valves.