M-300 DN80-300mm Portable Gate Valve Grinding Machine
Technical Parameter

1) Applicstion:Gate Valve Seat,Gate Valve Core.

2) Grinding scope: DN80~330

3) Motor power: 1100W

4) Rated Voltages: 220V

5) Min distance of valve seal face: B>55mm

6) Allowed adjustable length: L≤650mm

7) Operating weight: 20kg
1.Machine Diagram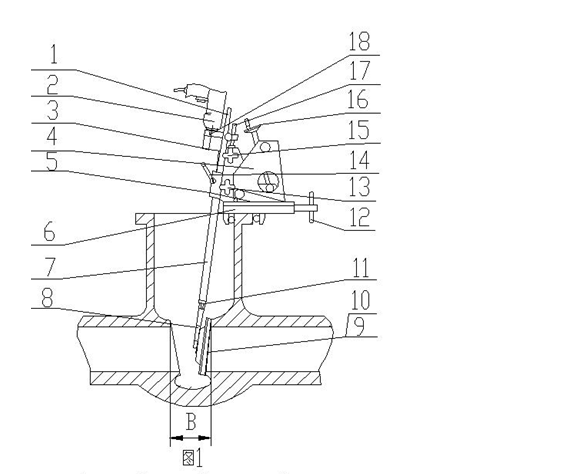 1.Main body 2.electric motor 3.power box 4.adjusting bracket 5.screw bolt 6.base 7.telescopic boom
8.arm 9grinding disc 10screw bolt 11screw bolt 12 clamping rod 13Fastening handle 14.telescopic boom lock arm 15.left or right adjusting handwheel 16.handwheel 17.sliding crame 18.screw bolt
2.Overview
Model M-300 portable valve grinder is widely used in the industries such power generation, petroleum, chemical, metallurgy and paper making as a high-tech product with national patent. It has the following characteristics:
1) Light, compact, and easy to carry
2) Split-type assembly makes installation easy and fast
3) Available in various field work
4) Applicable in grinding gate, check valves and flanges made of various materials
5) Grinding automatically after the installation is adjusted well
6) Reasonable structure design, perfect Metabo motor and high-quality imported grinding materials contribute to the grinding 3-10 times as fast as the manual one
7) Stepless and adjustable speed, stable power transmission and accurate lapping make the sealing face in complete contact.
3.Technical Parameter
1) Applicstion:Gate Valve Seat,Gate Valve Core.
2) Grinding scope: DN80~330
3) Motor power: 1100W
4) Rated Voltages: 220V
5) Min distance of valve seal face: B>55mm
6) Allowed adjustable length: L≤650mm
7) Operating weight: 20kg