MZ-250 DN90-270mm (3-11Inch) Portable Gate Valve Grinding Machine
Technical indicators

Applicstion:Gate Valve Seat,Gate Valve Core.

Grinding diameter: D=Dia95-Dia270mm adjustable

Valve DN:DN90-270mm (3"-11")

The electrical power: 1100W (Electric motor)

The greatest adjustment depth:600 mm

Input voltage: 220 V

Operating weight: 31.5 kg

The smallest broaching size: B = 45mm



1.Summarization
MZ Portable Valve Grinding Machine for grinding gate valve is a new generation of products that is adeveloped to adapt to on-site maintenance gate valve. It has the advantages as below: the reduction of labor intensity, improving labor efficiency, replacing imported products, educing the maintenance cost. It is widely used in petroleum, chemical industry, steel mills, power plants and so on.
1) small volume. Light weight, easy to carry.
2) installation is simple, the structure of product is combined type, easy disassembly, transvestite.
3) easy to operate.Valve seat, valve core can be grinded.
4) high grinding efficiency, good quality. Using advanced grinding materials, grinding efficiency is 10 to 30 times that of the manual grinding, can make the contact area of more than 95%. High precision grinding quality makes the contact area to the level of new valve.
5) it is suitable for on site repair in a complicated environment which saves the overall disassembling of valve.
2.Technical indicators
Item
MZ-150
MZ-250
MZ-600
MZ-900
MZ-1200
Grinding Range(mm)
Dia 50-180
Dia95-270

Dia220-630

Grinding Plate

selective

Dia400-960mm

Grinding Plate

selective

Dia630-1250

Grinding Plate

selective

Voltage(V)
220
220
220
220
220
Power(W)
750
1300
1300
1300

1300USA Milwaukee

electronmotor

Frequency(HZ)
50
50
50
50
50
Max Grinding Depth(mm)
420
600
900
1500
2400
Valve sealing face min gap(mm)
38
45
70
160
100
Gross Weight(kg)
20
31.5
60
170
142
Item
M-100
M-200
M-300
M-300C
M-600
Grinding Range(mm)

DN20-150mm

Offline gate valve,

globe valve,

safety valve

Dn80-200mm

Grinding Plate

selective

DN95-320mm

4"-13" Grinding Plate

selective

DN100-400mm

Grinding Plate

selective

Dn200-600mm

Grinding Plate

selective

Voltage(V)
220
220
220
220
220
Power(W)
750
1300
1300
1300
1300USA Milwaukee electronmotor
Frequency(HZ)
50
50
50
50
50
Max Grinding Depth(mm)
250
600
650
850
900
Valve sealing face min gap(mm)


45
55
60
70
Gross Weight(kg)
26
31.5
75
80
90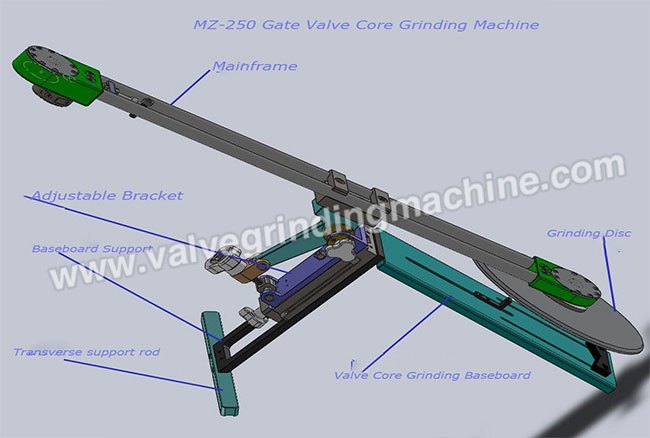 3.The installation diagram